| | | |
| --- | --- | --- |
| ECONO-SLEAR | | |
Monday, 19 May 2008
| | |
| --- | --- |
| | Iowa Precision Econoslear, Light to medium duty coil blanking systems, provide all the benefits of coil blanking...... |
ECONO-SLEAR--------Light to medium duty coil blanking systems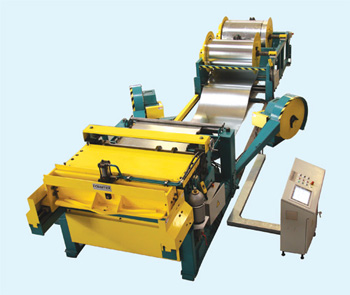 The Slear System Concept
The ability to purchase coil stock as your raw material rather than pre-cut sheet, and process it in your facility to suit your specific requirements gives you an edge both in raw material cost and material availability.
Further cost advantages are realized when purchasing high quality, automated Iowa Precision blanking equipment that can be operated and monitored by one operator.

Iowa Precision Industries, Inc. EconoSlear feature the continuous production of sheet metal blanks from coil stock to exacting sizes and tolerances.
The Slear family of systems produce blanks from coil stock including mild steel, prepainted, embossed, galvanized, tin plate, aluminum, stainless steel and other ferrous or nonferrous metals.
The EconoSlear are equipped with IPI`s electronic controls for accurate, pre-set blank length and batch quantity.
A host of labor saving accessories such as coil handling equipment, single or double uncoilers, edge trimming, scrap choppers, and a variety of blank stacking systems make the Econo Slear the industry leader in light to medium duty coil processing systems.









EconoSlear Specifications

. Coil Width
Max: 1830mm Min: 152mm
. Material Thickness
Max: 2.0mm Min: 0.4mm
. Staightening Section
6-roll powered straightener optional
. Drive
2-speed electric motor and gearbox
. Line Speed
High: 15m/min Lower: 7.5m/min
. Part Tolerance
Length: ±0.8mm Slit Width: ±0.18mm
. Shear
Hydaulically actuated
. Slitter
Three sets of slitter knives included
Max: 5 slits in 2.0mm
Minimum slit width: 76mm
. Hydraulic System
Self-contained. No compressed air required
.Controls
Electronic providing pre-set blank sizes and batch quantity
Last Updated ( Monday, 19 May 2008 )