| | | |
| --- | --- | --- |
| VULCAN 1000C PLASMA CUTTING SYSTEM | | |
Monday, 18 February 2008
| | |
| --- | --- |
| | Lockformer Vulcan plasma cutting systems are renowed for their unrivaled structural integrity and smoothness of operation. Better quality underneath is reflected in a better quality cut on the surface of the material. The Vulcan 1000 set the standard for compact, cost-effective plasma cutting systems. With the introduction of the enhanced 1000C, the best just got better-and even more productive.... |
Vulcan 1000C Plasma Cutting Systems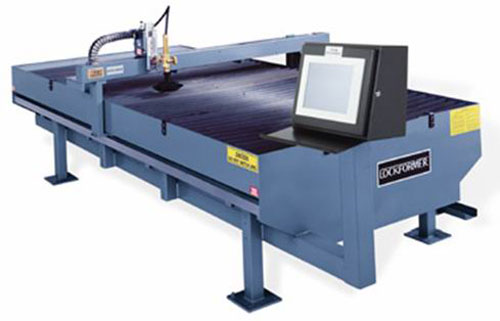 Strength & Stability
With its fixture welded 75mm x 75mm steel tubing framework, the Vulcan 1000C could be made by Formtek machinery Beijing. The superior structural integrity of the frame which is 45% stronger than any other system at this price point- enables the Vulcan 1000C to achieve unrivaled levels of strength, stability and accuracy. We believe the heavy-duty construction is essential , without it , the highest levels of job quality and repeatability cannot be achieved.
Power & Precision
At the heart of the Vulcan1000C you'll find a sealed DC servo motor of the highest quality. No inferior stepper motors here. The y-axis DC servo motor is linked to a 50mm diameter steel shaft that drives both sides of the machine simultaneously. Combined with a 3" diameter x 128' long y-axis guidance rail and a Hiwin linear x-axis bearing and way, the Vulcan 1000C achieves unsurpassed levels of stability, accuracy and smoothness of operation. The Vulcan 1000C leverages a Hypertherm plasma torch and Power-MAX1000 power unit. As such, the Vulcan 1000C can achieve traverse speeds of 25.4m/min。All to the tightest tolerances with no additional edge preparation. The Vulcan 1000C can also be coil fed with either a two or four coil system for the highest levels of productivity.
Revolutionary LCD Touch Screen Control
The Vulcan1000C features a 15" LCD touch screen as standard. Now operators can input fittings at the machine by simply pulling up menus and touching the screen. Alternatively, fittings can be sent to the machine from connected
computers located in nearby offices.
Industrial-grade color-touch screen
Manual speed increase/decrease override
Kerf compensation from 0.001 to 0.999
Graphic machine status display
Scale up/down
Part rotation
Shape repeat
Auto home sense to set 0/0 automatically
2nd home set for piece work
Acceleration control
Automatic corner slowdown
40X CD-ROM
Encoder feedback for positioning
80 volt DC power supply 20 AMP
Remote safety stop switches and current limiting drives for safety
Feature Summery

User-friendly operator controls and easy-to-use software
Excellent cut-quality and precision on a wide variety of materials
Patented Hypertherm-shielded nozzle for longer nozzle life and heavier piercing capability
Vertical dual cylinder pneumatic torch lifter with adjustable up/down pressure
Sealed DC servo motor and motor encoders for steady movement of the torch over the entire cutting area
Exclusive Gullwing scrubbing action airfoil table eliminates dust particles, on the underside of the sheet metal for clean, square, dross-free cuts
Pre-designed shapes plus more than 900 icon choices provided as standard
Preview fittings in 3-D and store frequently used fittings in a user-defined library Welded tubular steel frame
3"/75 mm diameter, turned ground & polished y-axis guide rail
THK linear x-axis bearing and way
Sturdy welded steel table– with adjustability for leveling machine
Dual adjustable sheet supports
Premium components and unrivaled build quality for unmatched reliability and long life
Optional built-in bar code scanner enables fast scanning and inputting of job data at the machine
Enhanced Software & Increased Functionality
The Vulcan 1000C fearures the very lates software for maximum efficiency and reliability. Each system includes Lockformer's enhanced fitting cutting software and new supernet optimization program as standard. Live on-line customer support via the Internet is also included.

Preview Softwar – Shows an input fitting as a 3-view picture. Each view can be rotated at any angle to show a full 3-dimensional view of the fitting.

Hole-Cutting Program -- Permits graphic definition of up to eight holes on most rectangular fittings. The holes can be rectangular, round or flat oval, and can be defined at any angle to the horizontal.

Calculation and Cutting of Turning Vanes – Also includes holes for rivets to hold the turning vanes on elbows and T-pieces.

Vulcan Parts Graphic Software – Create and store shapes with a mouse-driven, pop-down menu. This program can hold 10,000 individual shapes, as well as 10,000 sheet jobs at any one time. The software includes a Direct Exchange Format (DXF) transfer program for use with CAD systems.

Background Processing – Allows processing an order or job in the background while the operator continues to input data for a new order.

Accessory Takeoff – Automates the check listing of non-fitting purchased accessory items for each job.

Manual Optimization – Enables the operator to either drag or rotate parts on the processed sheet or move them to da different sheet.

Standard Super Segmenting Program – Splits oversize blanks up to 100 times in each axis.

Standard Manual Segmenting Program – Permits manually controlled segmenting of oversize blanks.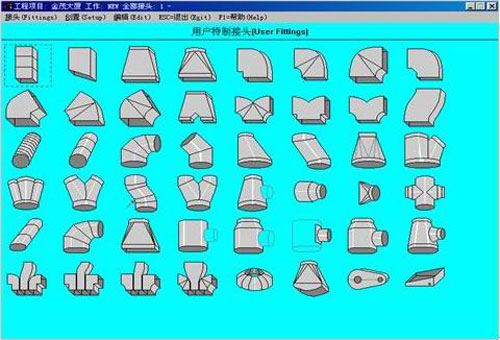 Create fittings with the user-defined library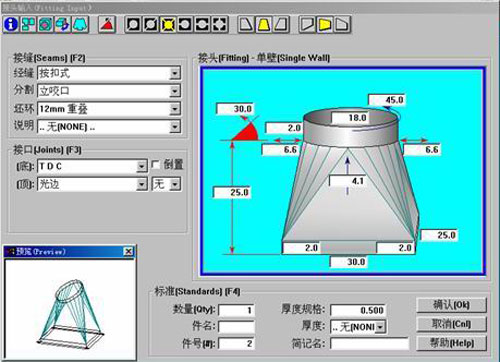 Vulcan1000C Specifications
1.Computer System
Microsoft Windows Operating System
Multi-tasking 586 office computer
Two high-speed graphic printers with tractor feed for labels
17" SVGA color monitor
1 serial port
2 parallel ports
200' Ethernet Cable
2.Cutting Table
Maximum sheet thickness : 12.7mm
Maximum sheet size : 1500mm x 3000 mm
Maximum weight : 450kg
Cutting speed : 1~25.4M/min, depending on sheet metal thickness
Maximum positioning speed : 25.4M/min
Pierce : 12.7mm
3.Power Source
Adjustable from 20 to 60 amps
40 amp at 100% duty cycle
208/440, 380/575, 60/50 Hz power units available
4.Electrical Requirements
Plasma transformer : 380/3/50 - 30 A
CNC control : 220/1/50 - 15 A
5.Air Requirements
Flux : 320 cf/hour (0.15 cm/min)
Tension : 90 PSI
6.Vulcan1000C Dimensions
Height : 1478mm Length : 4166mm Width : 2058mm Weight : 1215kg

Cutting Speeds Reference

Material

Thickness (mm)

Power (amp.)
Cutting Speed (mm/min)
Low Carbon Steel
0.6
2.7
6
10
16
22
20
35
55
55
55
55
12,446
3,556
1,905
889
406
229
Aluminium Plate
0.8
3.2
6
10
16
20
35
55
55
55
11,430
4,064
3,429
1,397
762
Stainless Steel
0.6
3.2
6
10
16
22
20
55
55
55
55
55
10,922
3,556
1,397
711
279
178
Last Updated ( Monday, 21 April 2008 )