| | | |
| --- | --- | --- |
| PRO-FABRIDUCT LINE | | |
Friday, 01 February 2008
| | |
| --- | --- |
| | PRO-FABRIDUCT Line integrates eighteen processes into one automated duct fabricating line, and Fabriduct's flexibility lets you manufacture duct to meet your exacting specifications and specific needs..... |
PRO- FABRIDUCT LINE-----Fully automated, modular duct manufacturing system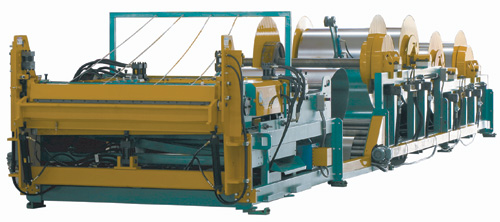 FABRIDUCT Features:
●Quality engineered components and systems ensure high production and low maintenance.
●Smallest footprint in the industry optimizes floor space.
●Modular design allows adding a section at a time.
●"U"or"z" line configurations available to suit different plant layouts.
●Heaviest coil capacities in the industry, 12,000 or 20,000 lbs.(5.4 or 9.1 metric tons).
●2"x10" wall stack production capability is an IPI exclusive.
●Integrated hole punching for end and center cross-tie duct bracing.
●Notching and punching units use solid die blocks to last the life of the machine,
●Self-cleaning spray type glue system provides 100% coverage.
●Front edge gauging at the brake provides bending accuracy of +0.020"(0.5mm).
●Optional grease duct/welded duct, 16-gauge capacity.
●75 feet per minute(23M/min) feed rate is the fastest in the industry.
● PC-based control system can save hundreds of job setups for future recall.
●Touchscreen operator input.
●Inventory and packaging software options.
●Maintenance-friendly design provides easy access to valve banks and power transmission components.
●Experienced in-house service department provides the best phone and field support in the industry.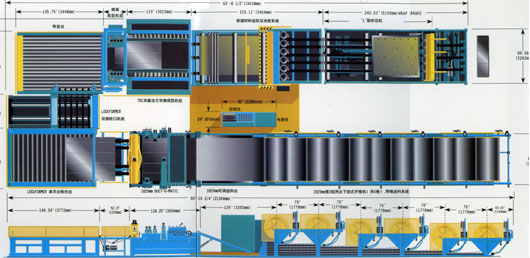 Pro-Fabriduct Processes:
1. Hydraulically driven decoiling with hydraulic hold-down roll
2. Separate path coil selectable feeding
3. Straightening / flattening
4. Beading
5. Notching for S&D, TDC, or TDF
6. Tie rod hole punching for cross-tie duct bracing
7. Hydraulic dual side rolling of the drive cleat
8. Hydraulic shearing with built-in brake
9.Snap-lock button punching on male edge
10. Pittsburgh or Snap-lock male side seam forming
11. Edge registration and 1st right angle transfer
12. Single head roll forming of the female side of the Pittsburgh or Snap-lock seam
13. Edge registration and 2nd right angel transfer
14. Dual side roll forming of TDC or TDF flanges
15. Self-cleaning spray glue application
16. Insulating liner cutting and application
17. Insulation pinning
18. L-section or full wrap braking
Drop-in Uncoilers
Three double drop-in uncoiler modules with grid auto feed give you six choices of coil stock ready for processing and automatically selectable
DUCTOMATICII
Feed - to - Stop removes coil set,beads,punches for cross ties,notches for two piece or wraparound and accurately cuts blanks
Notching and Cross Tie Punching
As part of the Feed - to - stop, the notching section notches two piece and wraparound blanks as well as punches end and center holes for cross-tie duct bracing
Entry Level/Single Level Conveyor
The conveyor module transfers the material straight for fittings or feeds it 90o to the Duplex
Duplex Rollformer
The Duplex Rollformer forms the Pittsburgh or Snap Lock longitudinal seams
Transfer Table,Cleat Roller and Duplex TDC@ Flange Modules
These modules form industry standard transverse joining methods
Insulmatic,Duro-Dyne or Grip Nail Pinspotter
These modules feed and fasten the insulation when insulated duct is programmed
Wrap Brake
The wrap brake forms the duct blank into "L","U" and wraparound duct ready for assembly
Control Module
Iowa Precision PC based programmable control stores hundreds of duct configuration "recipes" for easy recall and processing
Last Updated ( Monday, 19 May 2008 )